Getting started with Trello
With Tick's Trello integration you can import all of your Trello boards, cards, and people right into Tick. You can also setup the integration to sync all of your Trello cards with Tick tasks.
Setup the Trello + Tick integration
Login to Tick as the account owner
Go to Settings > Integrations
Click Setup next to Trello and then Connect Tick to your Trello Account
Login to your Trello account.
Click Allow to grant Tick permission to import users, boards, and cards from Trello
Select which Trello team Tick should connect to
You'll be taken to a success page to let you know the integration is setup and working. From here you can import users, project, and tasks into Tick.
Importing people from Trello
Once you've setup the Trello integration you can import everybody into Tick.
Login to Tick
Go to the People page
Click Import from Trello
Select the people you'd like to import
Add their email addresses so we can invite them to Tick
Click Import Trello Members
You'll be taken back to the People page and you'll see all the Trello people that you brought over to Tick.
Import projects from Trello
Go to the Projects tab
Click Create a New Project
Click Import an Trello Project
Click the project you'd like to import to Tick
Give your new project a client, total budget, and select if the project is billable. By default the client name is set to your organization name, but you can change that at any time.
Your project has been imported! Now you can start working on the project, edit the more advanced project settings, or import additional Trello projects.
Automatically import tasks or sub tasks from Trello
With this integration you can import your Trello tasks or sub-tasks into Tick automatically. By default Auto Import is turned on and will bring in all of your Trello lists into Tick as tasks. You can turn off auto import or set it to import your Trello cards as tasks from the Trello settings page.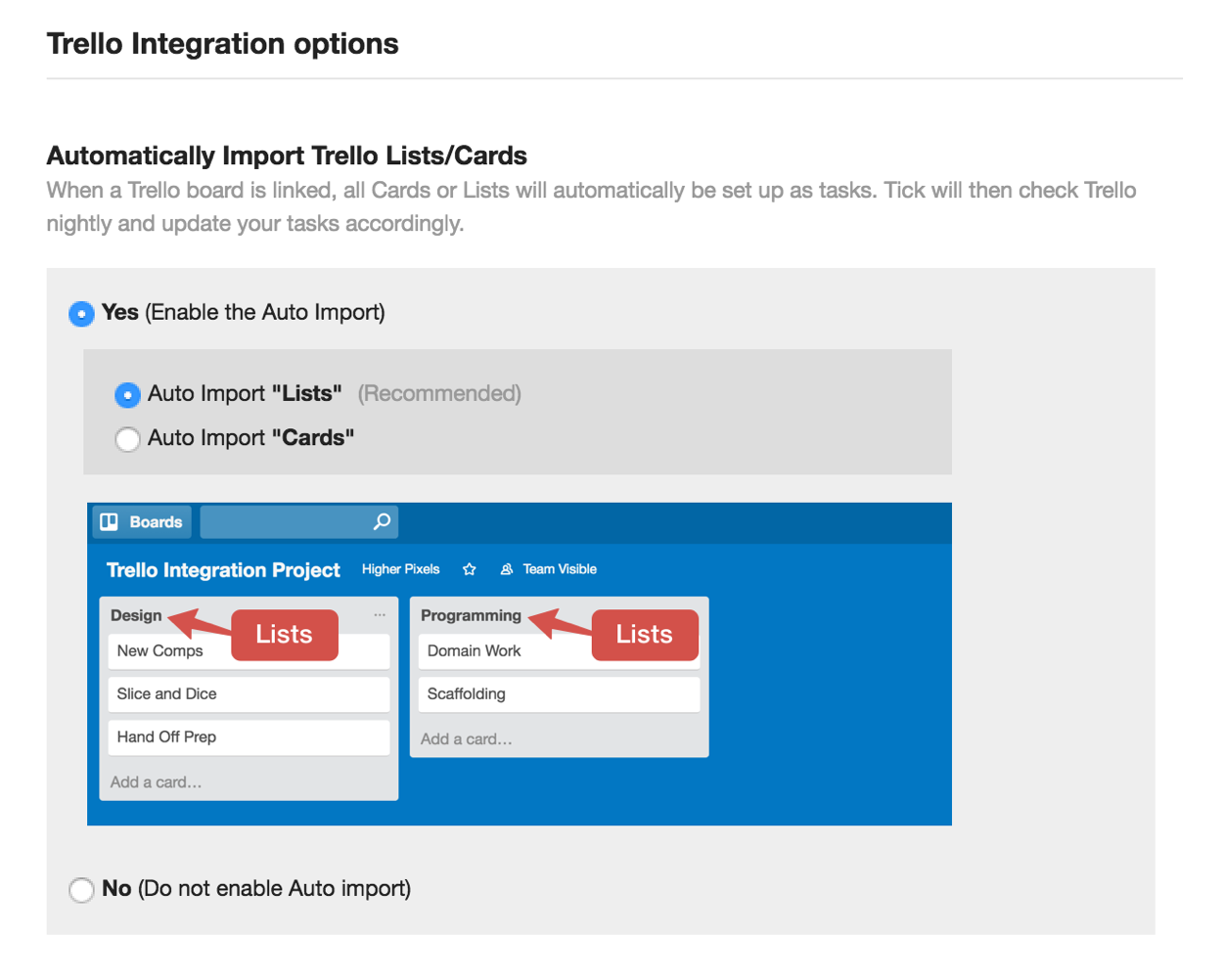 Click Settings > Integrations
If you've already setup the Trello integration, click View Settings next to Trello
Here you can either change your settings to auto import lists/cards or to turn off the auto import
Click Save Changes
If you have auto import turned on Tick will check your Trello account for new lists or cards each night about midnight local time and import them into Tick.
Manually update task list
New lists or cards are brought into Tick each night about midnight local time. But if your recently created Trello tasks aren't showing up in your task list you can manually update the task list. To do this, go the project you'd like to update and click Update Now.