A quick look at Tick and Harvest
If you're looking for time tracking software for your company, Tick and Harvest are two great options to consider. Both products launched in 2006 to help teams track their time, but they have different views on how and why your team needs to track their time.
Harvest's focus is on helping teams capture their time so they can invoice clients or run payroll. So they have built features like weekly time sheets, expense tracking, and client invoicing. For Harvest, time tracking is what you do to get paid.
With Tick, everything is focused on helping your team hit your budgets.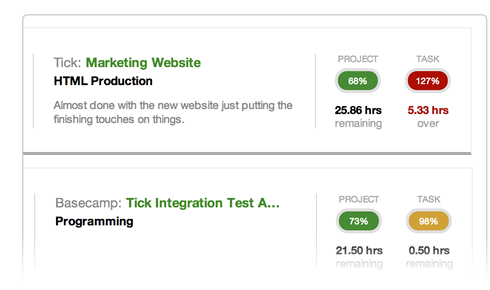 Tick's has always focused on helping teams identify where they are spending their time, so they can run more profitable projects. You get budget updates whenever you log a time entry and reports that tell you which projects are the most profitable. For Tick, time tracking is the key to a more profitable business.