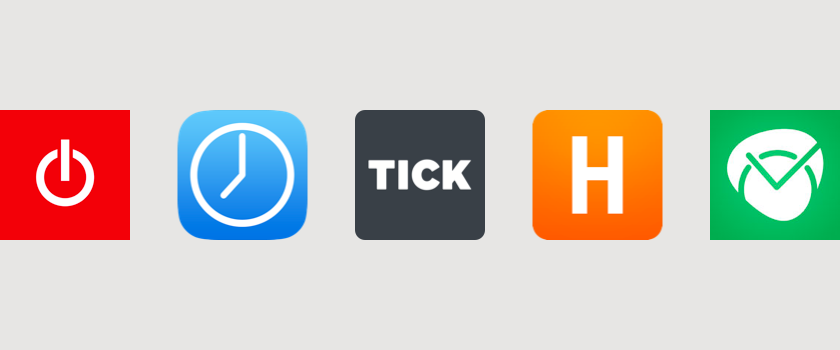 5 Best Time Tracking Tools for Creative Agencies, Designers, and Marketers
Why your agency needs to track its time
Tracking your time can be a drag. If you're having a super productive day it can feel like it's getting in the way, and if you're having a tough day, time tracking can serve as a reminder of how little you're getting done.
But, tracking your time is one of the best things you can do for your business. Every hour you capture is another hour you can bill, and if you're running fixed-price projects you can identify your most profitable clients and projects.
The Pareto Principle, also known as the 80/20 rule, tells us that 20% of our clients provide 80% of our sales. If your agency can identify which customers or type of work makes up your most valuable 20% you can refocus your business to maximize this type of clients or projects.
The first step is tracking your time so that you can identify your most profitable projects, and start weeding out the ones that waste your time.
Important time tracking features for agencies
Budgets: Budgets are integral to tracking the effectiveness of your team. The ultimate goal of time tracking is to help you identify which projects are making you money and which are not. This makes budget tracking one of the most important features for agencies.
Invoicing: If your agency bills by the hour you want simplify your billing workflow as much as possible. You'll want time tracking software that either has invoicing built in or integrates with your invoicing solution.
Freelancer tracking: Lots of agencies will employ freelancers part-time or as needed. If your agency does this you'll want to make sure your time tracker allows for various levels of permissions so they can't see all of your projects and clients. You'll also want to make sure they can enter their time directly without it costing you a lot more to add them to your team.
Project management integrations: Another important piece to reduce the friction in adopting a time tracking solution is an integration with your project management software. With a solid integration, you can avoid copying in all your projects, people, and to-dos. There are also integrations that will allow you to track your time from within your project management software.
Price: If your Agency can just capture one or two more hours a month you can fully pay for your time tracking software, but price should still be a strong consideration.
The top 5-time tracking tools for agencies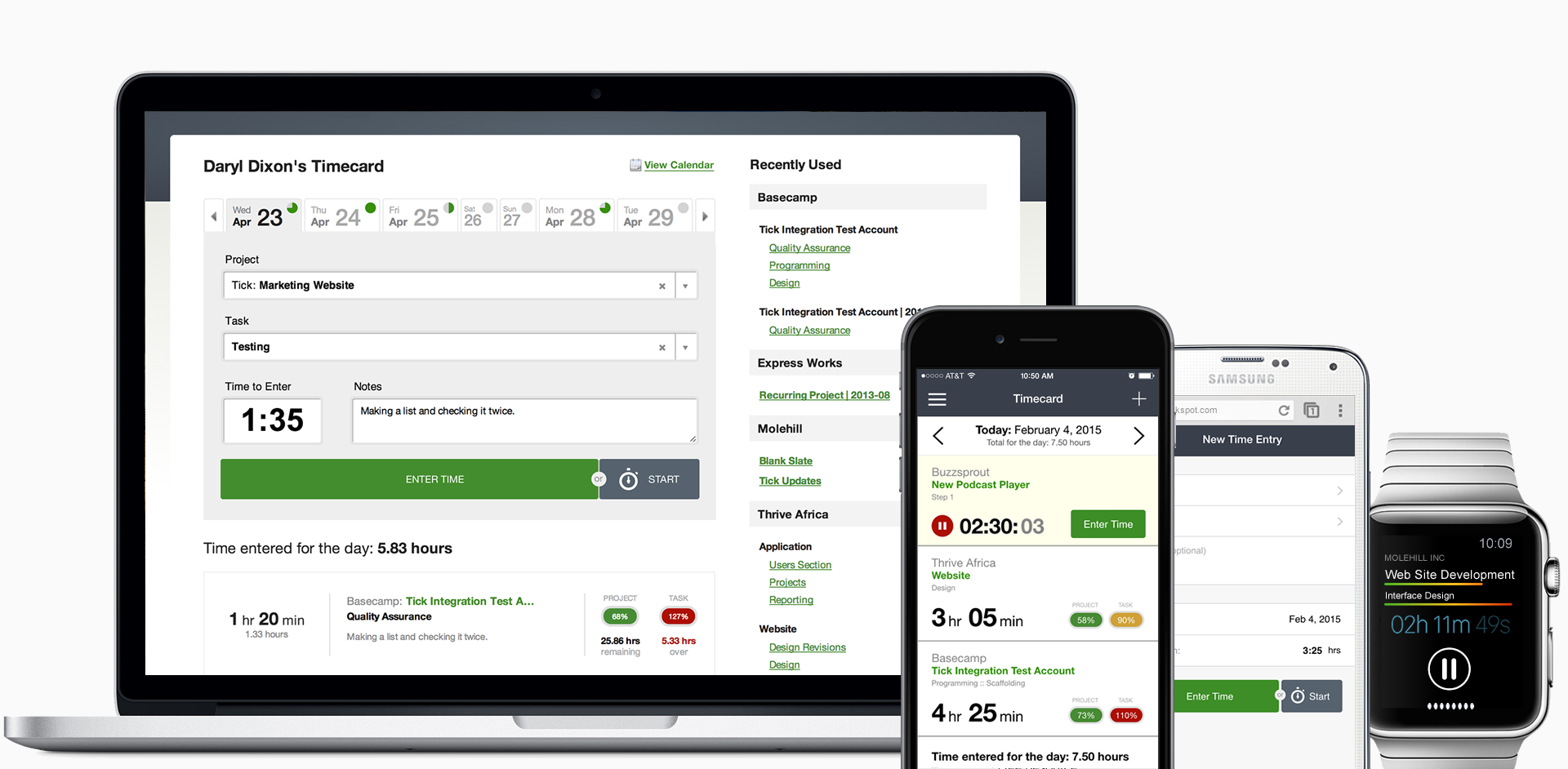 1. Tick
Tick is focused on helping your team run more profitable projects. Don't just track your hours, but use that data to learn what project and clients are the most profitable for your business.
Budget Tracking: Budget tracking is at the center of Tick. Each time you log a time entry your budgets are updated in real-time. So you can identify problems before they get out of hand.
Invoicing: Tick integrates with QuickBooks and Freshbooks for invoicing.
Freelancer tracking: Tick allows you to keep freelancers on a need to know basis. They only see the clients, project, and time entries they are working on.
Integrations: Basecamp, Asana, Trello, QuickBooks, Freshbooks, and more via Zapier.
Price: $19 - $149/month
Best fit: Medium to large teams trying to run more profitable projects.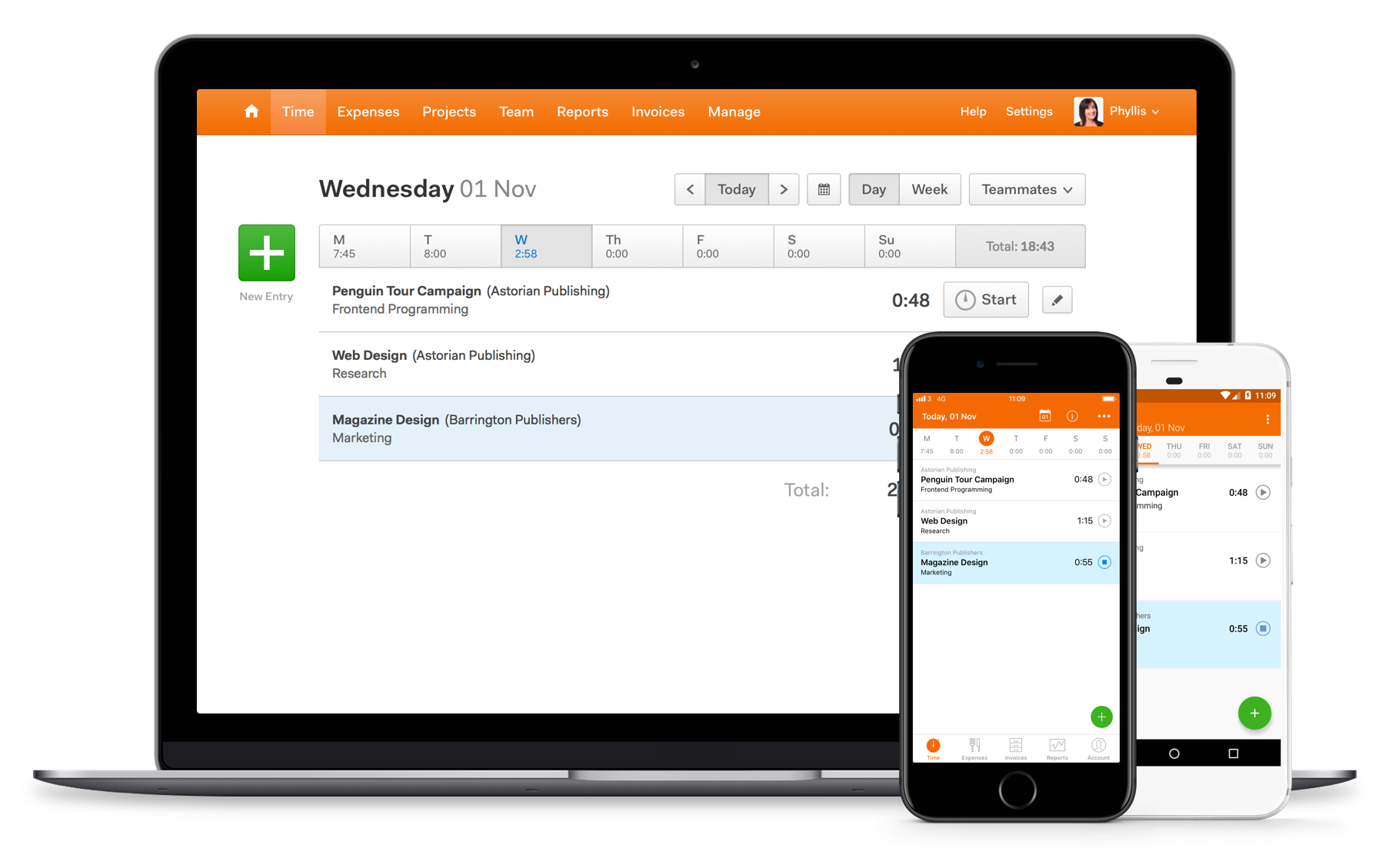 2. Harvest
Founded in 2006, Harvest is one of the most well known time trackers on the market. Harvest's focus is on helping teams capture their time so they can invoice clients or run payroll. So they have built features like weekly time sheets, expense tracking, and client invoicing.
Budget Tracking: Harvest does have budget tracking, though it's not a prominent feature in the UI.
Invoicing: Harvest has invoicing built into it's software, though to accept payments through Harvest you do have to set up a merchant account with Stripe or Paypal.
Freelancer tracking: Harvest allows you to assign roles that will hide some activity from a freelancer or part-time employee. The only downside is that each freelancer will cost an additional $10/month.
Integrations: Harvest has lots of integrations including Asana, Jira, and GitHub.
Price: $10/user/month
Best fit: Teams tracking time to run payroll or reimburse their clients for expenses.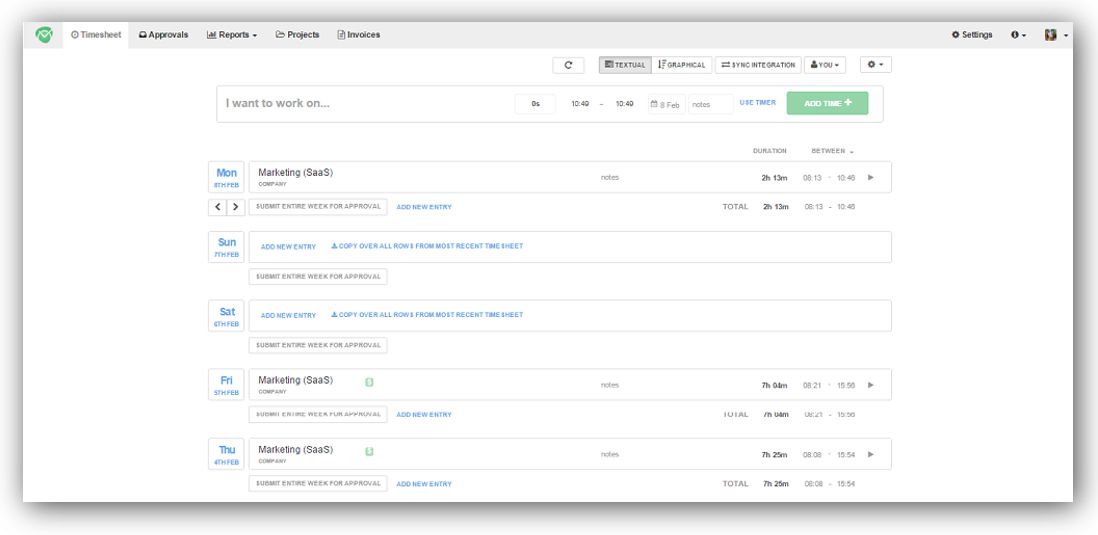 3. TimeCamp
We added TimeCamp to the list for their automatic time tracking for applications and sites you are actively using. By downloading an add-on, you can run reports for sites you may be spending too much time on and areas you could improve productivity.
Budget Tracking: TimeCamp's basic paid plan allows you to budget for either hours or dollars. To see your progress on a certain project or task, you can run a report to see more details.
Invoicing: With their 'pro-plan', TimeCamp offers invoicing based on your hours tracked or by creating an invoice from scratch.
Freelancer tracking: You can add individual users to your team that can only see reports of their projects and time.
Integrations: TimeCamp has integrations into Calendar, Basecamp, Asana and more.
Price: $7-10/user/month
Best fit: Freelancers. TimeCamp's automatic invoicing and visibility into time-consuming websites and applications make it a great fit for those who want to change their productivity habits.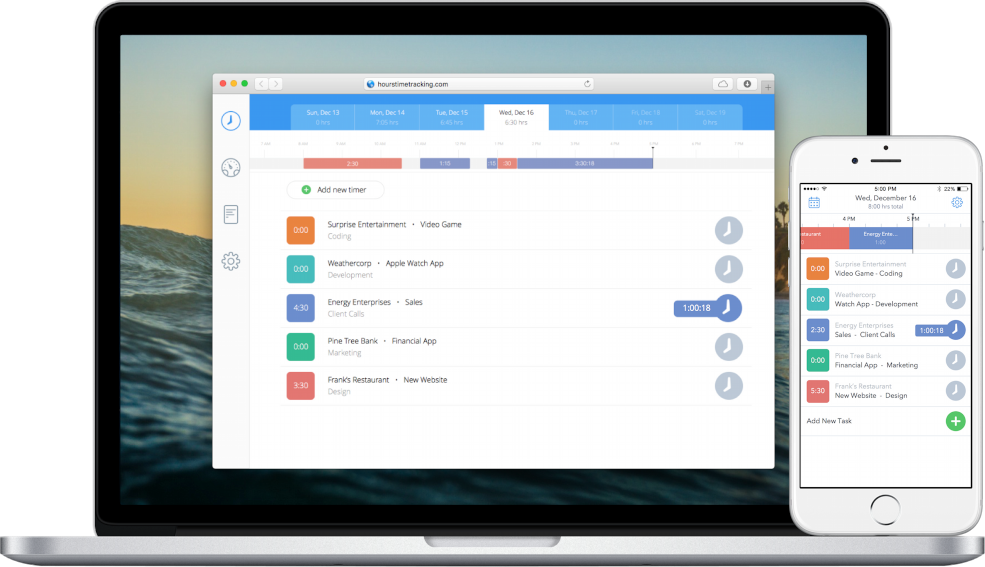 4. Hours
Hours was born out of a popular iOS time tracking app. They focus on tracking time as it happens with timers to help your team get the most accurate view of where they are spending their time. Two things that make is stand out are its excellent iOS app and beautiful UI.
Budget Tracking: Hours mobile-first focus means that it is missing some of the more advanced features. Hours doesn't have budget tracking, though you do get access to reports.
Invoicing: Hours doesn't have invoicing functionality.
Freelancer tracking: Hours does have the ability to add freelancers to teams, but they are still given visibility into your other clients and projects.
Integrations: None
Price: $8/user/month
Best fit: Teams on the go. Hours has a great iOS app, so it's perfect if you're trying to log time from your iPhone.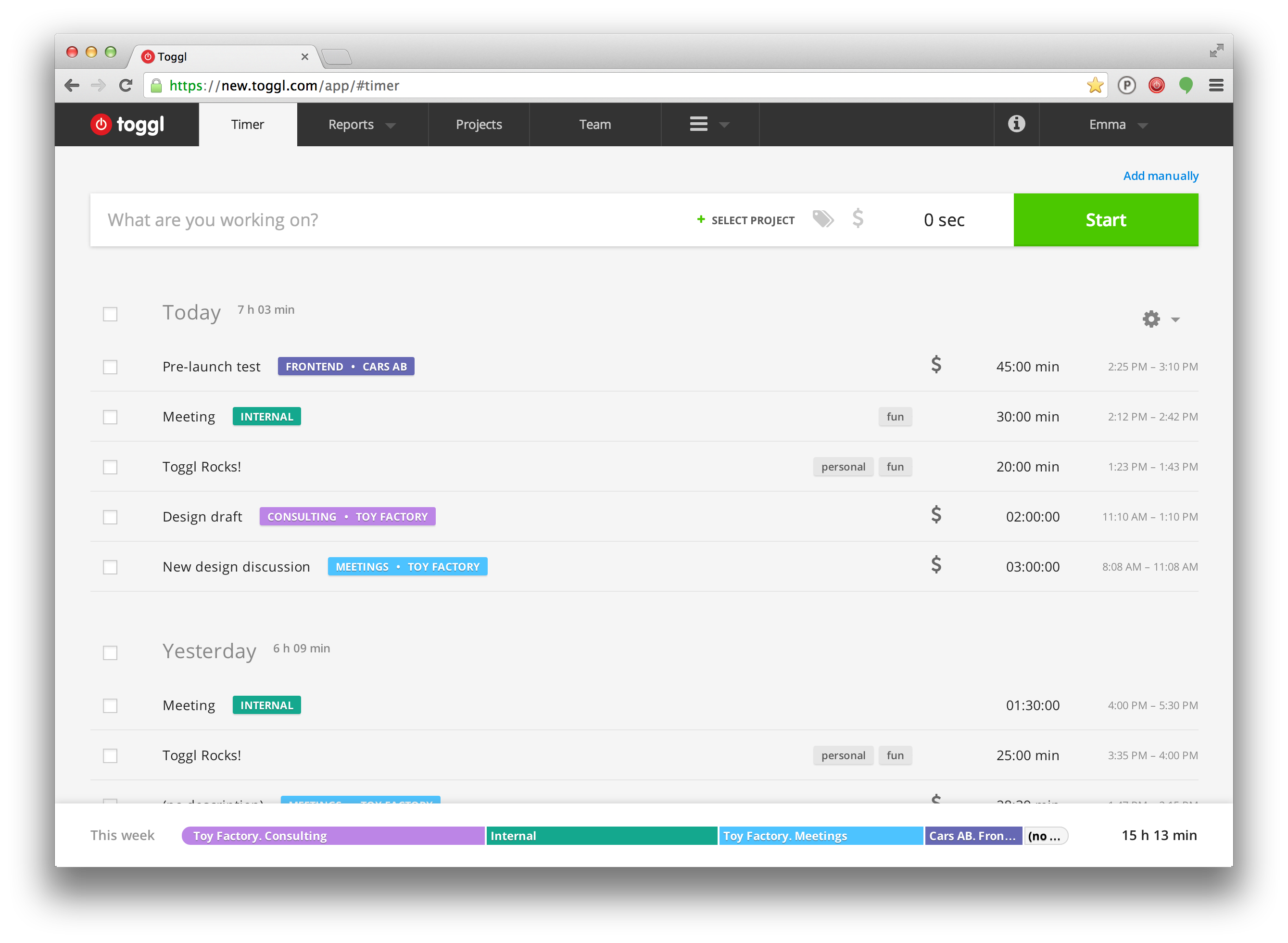 5. Toggl
Toggl's focus is on helping individuals and freelances capture their time without many constraints. You don't have to set up projects, tasks, or tags. You just hit a timer and start tracking. For Toggl it's all about lowering the barrier to entry.
Budget Tracking: Toggl supports budgets so you can see how projects turned out or are progressing. Though it isn't a core feature of the UI.
Invoicing: Time tracked inside of Toggl can be exported as a CSV or you can invoice your clients with their Freshbooks integration.
Freelancer tracking: Toggl supports various user roles to help keep freelancers on a need-to-know basis. Though, unless you're on the free plan, each freelancer or part-time employee will cost an additional $10-$59/month.
Integrations: Toggl has lots of integrations that all work through their Chrome Extension. If you're a Chrome user you'll most likely be able to add time tracking into your user workflow.
Price: $10 - $59/user/month
Best fit: Small teams. Toggl has a generous free plan that gives you their basic features for us to five users. So it's a great tool for a smaller organization.
Now comes the hard part...
Now that you've picked the right software for your agency, the hardest part will be committing to tracking your time. But once you've made it a habit, you'll be able to identify the best places you're spending your time and start running a more profitable business.